Saturday, April 5th, 2014
1. Terrace lawn
Laying a fake grass carpet on the terrace of this beautiful bedroom has given the space a whole new dimension. Four walls have been opened out to reveal a natural, serene and inviting outdoor space for morning café al fresco.
2. Golf green
You could recreate this beautiful golfers garden and seating area. Enjoy your very own golf putting green and get in loads of extra practice. While friends wait their turn over a cool drink, comfortably seated at the lounge.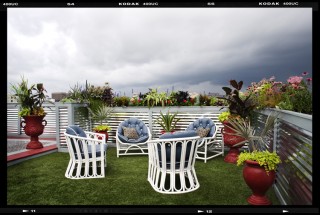 3. Rooftop retreat
It doesn't matter what the space, fake grass can transform your unattractive concrete area into a green oasis. The grass carpet, coupled with some brightly coloured planters and designer garden furniture, has made this roof sublime.
4. Paving patterns
You can get really creative by embedding paving stones into fake grass just like this inspirational design. Not only has this created an attractive feature, it's ideal for a pool surround with no maintenance, and no mess.
5. Under the trees
Creating this shady haven was made possible through the installation of artificial grass. A natural lawn would be muddy all these trees without any sunlight under. The space is made more inviting with curved bench seating and brightly coloured fabrics.